Cherry - Interview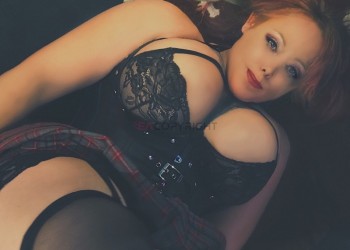 Q:Do you ever get nervous before meeting a client? Is it kind of like preparing for a first date?
A:I am of the opinion that If you ever lose those butterflies in your stomach, and the nervousness which comes with them... It's time to search for another job. I say this for two reasons. The first being, you've the passion you once had for your craft. I never forget that I am going to meet a client who is most likely very excited for the time which they and I will share. The only way I will be able to meet, or exceed the high expectations that client has in me, is if I am also excited about sharing that time with him. My focus is client satisfaction... a result I feel would be impossible to achieve, in the absence of that nervous excitement. Second, I believe a void of any sort of nerves indicates a dangerous sense of complacency. As fun, and rewarding as sex work can be, it is essential that a sex worker remains vigilant, and aware of just how potentially dangerous sex work actually can be. After three or four years of having only great clients, who treat you exceedingly well, it's far too easy to get caught-up in a false-sense of security. Sex work has the potential to change from a great time, shared with a client, into one filled with pure terror, in the blink of an eye. The best way which sex workers can provide themselves even a small measure of protection against falling victim to a client with less-than-honourable intentions, is to pay attention, stay sharp, always have an escape plan, and never go anywhere, without letting at least one person know where you're going, and what time you plan on returning home.
Q:If someone wished to become an escort, how would you recommend they go about it?
A:Research. Talk to the girls in their local area. Do an exhaustive amount of soul-searching. Above all... Completely weigh every last pro, and con you can think of, in the sense of how they apply to you, specifically. Everyone handles the benefits and the pitfalls associated with sex work in their own way. Know that both have their own set of dangers, and rewards, and a girl must keep her eyes wide-open at all times. Only take the plunge, if you are getting involved with sex work because you want to. NEVER do it for someone else. This is an extremely intimate, and personal job, which requires a very specific personality type. If you have even one serious reservation, or worry about anything the job entails, then it probably isn't the best fit for you. The vast majority of individuals who are employed in sex work, are doing it for the wrong reasons. I've seen first-hand, just how miserable this job can make those who truly should not be doing it. Be safe. Be sure. The consequences of entering sex work under false pretences can be devastating, and cause serious lifelong damage. I'm lucky. I love what I do. Unfortunately, in the five years I've been a sex worker, I have only met one other girl who shares my opinion.
Q:What types of clients do you deny to meet? Are there any restrictions?
A:I refuse to meet pushy, rude, or ignorant clients. If you refuse to show me respect before we meet, the chances of you behaving differently once we meet are not very good. I also deny service to anyone who requests BBFS. Having unprotected sex with a sex worker is a very reckless, not to mention, stupid activity. This request causes me to experience doubts about the very health, and good judgement of anyone who makes this request. There are enough inherent risks already associated with sex work... Any girl who doesn't do her very best to mitigate the many risks she faces in this occupation, finds herself at very high-risk of contracting an sti. The consequences are normally rather trivial, but as we all are aware, reckless behaviour such as this, can cost you everything.
Q:Can you tell us a bit about your first escort job?
A:I'm not sure if you mean first form of employment, or first session, so I'll quickly provide an answer for both. I have been 100% independent since I began escorting in mid-2012, and that is something which will never change. My first session was with a client who was very, very well endowed. So well, in fact, that I have had no one larger over the five years I've been escorting.
Q:Has being an escort changed your view of men?
A:Not a whole lot, really. I have been a rather permiscous girl, since my pre-teen years. This has given me an unusually broad cross-section of men from which to form my view of men in general. I have a very positive opinion of men. My long list of previous lovers, has shown me that, while there are a few real pricks out there, the vast majority of men are sweet, kind, and generous individuals.
Q:How did you get into the escort business?
A:It was Summer of 2012... and I was restless. After spending nearly ten years serving with the Royal Canadian Air Force, as a member of the Canadian Armed Forces, I was starting to feel like it was time for a change. Having always been very curious about sex work, I decided to run an ad one Friday night, after getting off work... and the rest is history!
Q:What don't you like about being an escort?
A:There isn't much I don't love about my job, but there are a few things I could live without. The things I dislike most, definitely include; getting stood-up, pushy clients, clients who request BBFS, time-wasters, and the mountains of laundry the job produces... and which I have to wash.
Q:What are your turn-offs?
A:Nothing turns me off faster than rude, impolite people who refuse to respect the very few rules within my services. Oh... also poor spelling and grammar. I should elaborate on that a bit. If you genuinely have a problem with spelling and grammar, that is fine. I understand, and would never hold that against you. However, if you are simply too lazy to bother with these things while we are texting, you may find yourself directed to another girl. ...and don't worry, I can tell the difference. ;)
16 Oct 2016
SarahRayneTaylor Escort - Interview
Q:What's the best bit about being an escort? A:All the interesting people I meet and of course my sex life has been good since becoming an escort Q:What don't you like about being an escor...
Read more